Hello Beauty Babes!
So, I did it. I bought into the hype, and bought the Subculture palette.
And, in less than 24 hours, I returned it and bought something else.
I guess what you want to know is, WHY? Well, I'm gonna tell you.
Everyone's been so excited for this palette, ever since it's unfortunate leak early this year. Makeup lovers were thrilled to be introduced to the sister palette of the infamous Modern Renaissance Palette!
I actually have, and use the Modern Renaissance Palette and love the formula, so I was so excited to try out the Subculture palette.
I'm a student that lives at home so I really am not someone who gets something first. Which can be annoying, but can also be a blessing in disguise, because you get to see how the people who ordered their makeup months in advance are liking it. And as we all know, the reviews for the Subculture palette were not good. Not even so/so. They were BAD.
After all the backlash, I kind of had in my mind that I wasn't going to buy this palette. However, I couldn't hold back the giddy giggle I let out when I saw the palette available at Ulta. Still skeptical, I swatched the palette and was in LOVE with the pigmentation. Seriously! ONE swipe and you had hella pigmentation. So, I decided to splurge and buy it.
I was so excited. I had seen so many looks online using this palette on the ABH Instagram and was so excited to dive in. Also, I was curious to see what was so god awful about this palette?
I was so excited, I unboxed it in the car. I even wiped off my eye makeup with a makeup wipe, applied primer, and started playing. First using Axis, I had no real problems.
However. when I really started in on a look, something wasn't right.
Houston, we have a problem.
It was so odd to me. I'm really not that picky of a makeup user. When I watched videos seeing youtubers ignore highend palettes because they had a dry texture, or performed inadequately, I really thought they were just picky. Before this, I thought that as long as it was pigmented I could make it work. And maybe that just speaks to the quality of the palettes I've tried out before with no issues. But this, was something else.
I always thought it was the artist's job to blend, not the shadows. That any shadow could look seamless if it was blended correctly.
But seriously, these shadows WOULD. NOT. BLEND.
It was just so patchy. I thought maybe it was me, or it was just that shadow. So I tried another shadow. Same patchy look. In fact, it's like they just refused to work with one another. Soon it developed a white film. I thought maybe it was my skintone, but it seriously looked like flashback.
So, I tried again. *WIPE*. This time, with less shadows. But the same thing was happening. *WIPE*. Soon, I decided to just try one shadow on the lid. I went for a teal that swatched amazingly. I packed it on the lid. Not  only was there shadow everywhere, but it wasn't even a solid color on the lid. It was a dusty mess. And, to top it all off, one of the shadows came loose from the glue. It was like the hot mess express.
Let's talk about the fallout shall we? Fall out isn't a deal breaker for me, sometimes the best formulas have fall out because they're so soft and blendable. So how is it, that a formula with the most fall out I've ever seen, isn't blending? It should blend like butter! I only had this palette for less than a day, and it looked pretty beat up. I could only IMAGINE having it for a week or two, it would be totally busted up!
By the time I had dinner, I knew this palette was not going to be a favorite.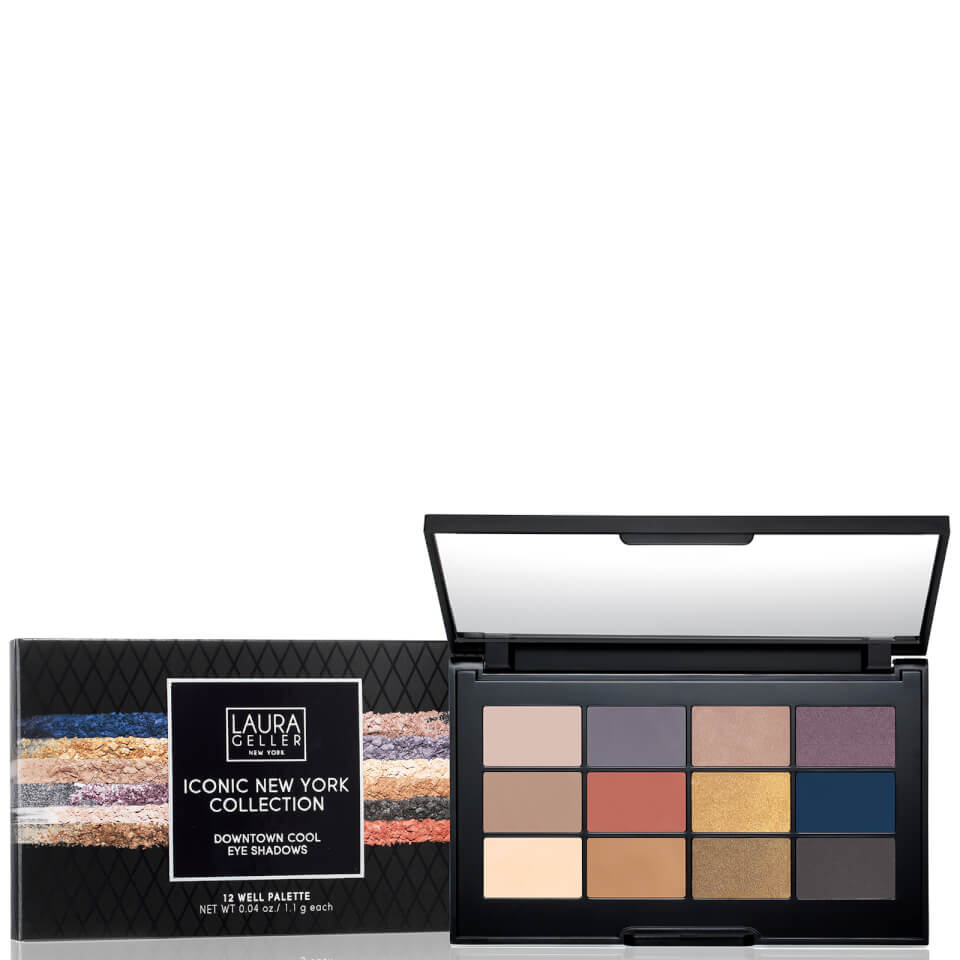 After spending the evening trying so hard to make this work, I realized, I don't usually have to try this hard to make something work. Even if it's drugstore. So why am I wasting time trying to make this $42 palette work? So I returned it, and I'm glad I did. I ended up buying another palette for $42, the Laura Geller Downtown Cools Palette and honestly, seeing how blendable those shadows were, made me realize how dissapointing the Subculture palette was.
Even beauty influencers were voicing their feelings! Sometimes, the stigma is that influencers don't like speaking out against products because companies may take them off the mailing list. Of course their are honest influencers out there, but we can all think of a handful of youtubers who always like whats new and never speak badly about it. So for such a large group of influencers to all voice clear upset with a product, not even "well it's not for me but.." no. they were beyond dissapointed.
The good thing with living in such a connected world, is that companies see our voices, see our feelings, and work to fix things. So, I guess we had all assumed Norvina would come out and announce a new formula considering the amount of unsatisfied customers. But, instead, Norvina hasn't hinted at any changes whatsoever.
After @AlissaAshley (who I'm a big fan of) posted the honest review of her swirling her brush in the shadow, Norvina released this statement, which was all kinds of shady
Many felt she pinpointed Alissa negatively for sharing her thoughts. In addition to this, many felt she also had a pretty blase' attitude saying "the palette isn't to blame, it must be you". However, she did claim refunds were a viable option.
Before going on, Let me say I LOVE Anastasia Beverly Hills. I blog about them, I buy their products, and enjoy using them. But if someone isn't going to speak honestly in all aspects of their makeup use, then how are we helping people who go on blogs or online to decide whether spending this amount of money is worth it? That's what I want to do, and why I'm sharing my experience with you guys.
I would describe this product as a total catfish. In the store, it was promising, pigmented, and appealing. But by the time I actually opened it, I had Nev & Max trying to help me figure out what was going on!
All these issues by themselves are enough to cop out. But because this palette is $42!!! It seriously made me so pissed off when I thought about how much I spent on this subpar palette, and what a waste it seemed it be!
Makeup is extremely personal. But I seriously don't think I've ever seen such opposing views on one product before! After trying out this product, I think I can pin point why.
Besides the obvious personal preferences everyone has, I feel like this palette has a really appealing exterior. Mainly, the pigment. It is so pigmented! And pigment can really go a long way. For some, pigment is enough. Maybe, using it with such and such might work, who knows. But for me, it's a very clear NO.
I feel like when a popular product comes out, alot of us almost try even harder to make it work. It's like high school again, trying to be "in" with the latest thing. But quality can't be replaced and I really feel like this doesn't have it. After spending the evening trying so hard to make this work, I realized, I don't usually have to try this hard to make something work. Even if it's drugstore. So why am I wasting time trying to make this $42 palette work? So I returned it, and I'm glad I did. I ended up buying another palette for $42, the Laura Geller Downtown Cools Palette and honestly, seeing how blendable those shadows were, made me realize how dissapointing the Subculture palette was.
In comparison to the Modern Renaissance palette, there is definitely NOT a similar formula. I know some people said the fall out and formula is the same, but it really is not. In fact, the first ingredients are even different, so they clearly changed the formula! I'm not sure why, but they did.
I understand where Norvina comes from defending this palette, I mean it's her baby. But if you have a majority of people all over saying they aren't happy, shouldn't you try to remedy that in some grandiose way? Maybe, try using the Modern Renaissance formula again? I don't know. But seriously, I don't think I've ever seen such a large unsatisfied group of people before about one product.
Would I recommend trying this palette out for yourself? NO. Especially with the high price point, and overwhelming negative reviews.  Would I buy more products (even palettes) from Anastasia Beverly Hills? Yes! It doesn't make sense to condemn the entire brand for one bad product. As I said before, I really do enjoy this brand.
If you like the color scheme, or want some other options, don't worry, I gotchu.
The Lime Crime Venus II palette is pretty similar with the mustards, and olive greens. at $34, it isn't inexpensive, but I do own this palette, and love using it. The quality is amazing and you can do alot with it.
BeBella Cosmetics isn't the most well known, but I do own their Silent Night palette which is filled with a variety of olive, moss green shades as well as burgundy, brown, mustard, and alot of other similarities with the Subculture palette. Not only do you get more shadows (35) but you also get them for a cheaper price at $20.
For a drugstore option, the NYX Perfect Filter palette in Olive You is a close dupe with alot of shade similarities. The formula isn't my favorite, but I do prefer it over the Subculture palette. For $19.99, it's a good deal.
Not to mention, dupes for single shades can be found easily at Makeup Geek, Colourpop, etc. Bustle.com even made an article with 21 dupes for single shades from the Subculture palette, so I seriously think you have plenty of options!
https://www.bustle.com/p/21-abh-subculture-shade-dupes-thatll-help-you-create-your-own-version-of-this-excellent-palette-74379
Here are some videos using this palette so you guys get some different opinions. Also, keep in mind you guys in a studio with lighting and filters, you may not see the full extent of issues going on with a product.
Alright you guys! That's all for this post!
Hopefully, my next one will be more positive. But I feel like honesty really is the best policy, and I love you guys for voicing appreciation for me telling you guys how I feel.
I'll see you in my next post! Stay tuned!
Keep up with me on social media:
Instagram: @SageSlays_
Snapchat: @SageCatherineXO
Twitter: @SageSlays
Stay Fierce & Stay Honest!
XOXO, Sage Slays